Vilken dag! – Kapstaden fortfarande…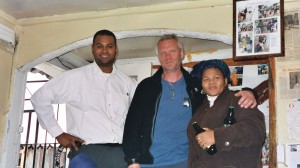 Vilken dag vi har haft! Vi har varit pa engen hand i en township som heter Khayelitsha. Det bor endast 180 000 personer dar. Vi har lyckats hitta igen Vicky som gillar Abro ol och samlar pa nyckelringar och har ett B & B. Vi fick dessutom traffa en massa harilga ungar och en supertrevlig lararinna i en nystartad skola. De fick lara sig att freda sig sjalv och saga nej! Jag fick tarar i ogonen och det fick vissa andra ocksa.
I gar nar vi var pa Waterfront traffade vi ett par, Simon and Lisa, som reser jorden runt med sina BMW motorcyklar. De har rest genom Afrika och kommer nu att bege sig till Argentina. Vi fick en trevlig pratstund och massor av bra tips. Vi har hunnit skaffa visitkort for att pa ett enkelt satt kunna lamna var e-mail adress till alla trevliga manniskor vi moter.
Vi har idag fatt veta att cyklarna har passerat tullen och kommer att finnas oss till handa pa mandagkvall. Det skulle i basta fall betyda att vi kan komma ivag pa tisdag morgon. Da aker vi vidare till "Cape of good hope" for att gifta oss igen. Eftersom karleken ar starkare an nagonsin sa kommer det inte att vara nagot problem att lova i-nod-och-lust. Nar vi borjar kora pa riktigt kommer vi sannolikt inte att kunna kolla mailen eller skriva i dagboken lika ofta. Vi gladjer oss at alla fina meddelanden i gastboken. Ha det!.